2021 CALLERLAB Convention – CANCELLED
Due to the cancellation of the 2021 CALLERLAB Convention, plan to join us for the one-day Virtual Annual General Meeting scheduled for Saturday, March 27, 2021.
Register for the online event here!
There is no cost to attend.  The event is open to anyone!
Virtual Meeting Schedule:
Kickoff
Keynote – Sociability in a COVID Era
Award Presentations
Annual General Meeting
Swearing in of new Board of Governors
Resolution Presentation
Social Event
47th CALLERLAB Convention
April 11 – 13, 2022
Cost
Convention fees for callers:
Caller: $230
Non-Caller: $210
Convention Fee Payment
Convention attendees may pre-register for the convention.
A minimum deposit of $100, per person, payable to CALLERLAB (U.S. funds, please) is due with the return of the convention registration form. You may pay by PayPal, check, or charge to your Visa, Discover, or MasterCard. Please do not send cash.
If you choose to send a deposit instead of the full payment, the balance due must be paid no later than 15 days prior to the start of Convention to avoid the late payment fee of $30.00 per person.
Sorry, we cannot accept partial registrations. You must register for the entire convention. If you believe an exception is warranted in your case, please contact the Home Office.
Refunds/Cancellations
A refund of the full amount paid will be made for cancellations received no later than 15 days prior to the start of Convention. Cancellations after that date will incur a $30.00 per person cancellation charge. Cancellations within 15 days prior to the start of Convention and any "no shows" will forfeit a $50.00 deposit per person. Once meal counts are given, CALLERLAB must pay for the meals even though they are not eaten. If you are registered and find that you will be unable to attend, please notify the CALLERLAB Home Office as soon as possible, for your refund to be processed. The CALLERLAB Office will close on April 5, 2022, and will be closed until April 18, 2022 while the staff attends the Convention.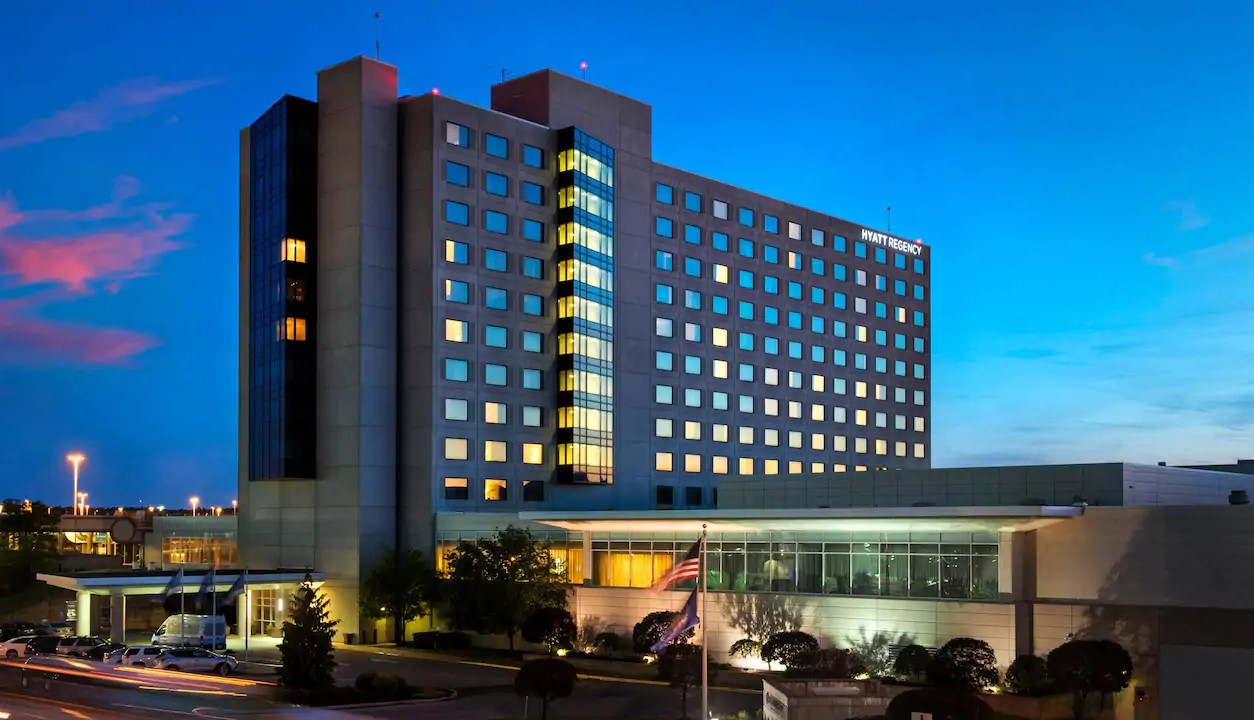 Hyatt Regency Pittsburgh International Airport
1111 Airport Blvd, Pittsburgh, PA
Hotel Reservations
The 47th CALLERLAB Convention will be held April 11 – 13, 2022 at the Hyatt Regency,  Pittsburgh International Airport
1111 Airport Blvd, Pittsburgh, PA.
Reservations will be available online.  Contact the Home Office for the link.
Please advise the Home Office if you have problems registering with the hotel.
Call the Home Office (800) 331-2577 if you have any questions
Make your room reservations early!
Upcoming Conventions
April 11-13, 2022  Pittsburgh, PA
April 24-26, 2023 Sparks (Reno), NV
March 25-27, 2024 Grapevine, TX