47th CALLERLAB Convention – "Restart, Reconnect, Restore"
April 11 – 13, 2022
Cost
Caller: $230
Non-Caller: $210
Convention Fee Payment
Convention attendees may pre-register for the convention.
A minimum deposit of $100, per person, payable to CALLERLAB (U.S. funds, please) is due with the return of the convention registration form. You may pay by PayPal, check, or charge to your Visa, Discover, or MasterCard. Please do not send cash.
If you choose to send a deposit instead of the full payment, the balance due must be paid no later than 15 days prior to the start of Convention to avoid the late payment fee of $30.00 per person.
Sorry, we cannot accept partial registrations. You must register for the entire convention. If you believe an exception is warranted in your case, please contact the Home Office.
Refunds/Cancellations
A refund of the full amount paid will be made for cancellations received no later than 15 days prior to the start of Convention. Cancellations after that date will incur a $30.00 per person cancellation charge. Cancellations within 15 days prior to the start of Convention and any "no shows" will forfeit a $50.00 deposit per person. Once meal counts are given, CALLERLAB must pay for the meals even though they are not eaten. If you are registered and find that you will be unable to attend, please notify the CALLERLAB Home Office as soon as possible, for your refund to be processed. The CALLERLAB Office will close on April 5, 2022, and will be closed until April 18, 2022 while the staff attends the Convention.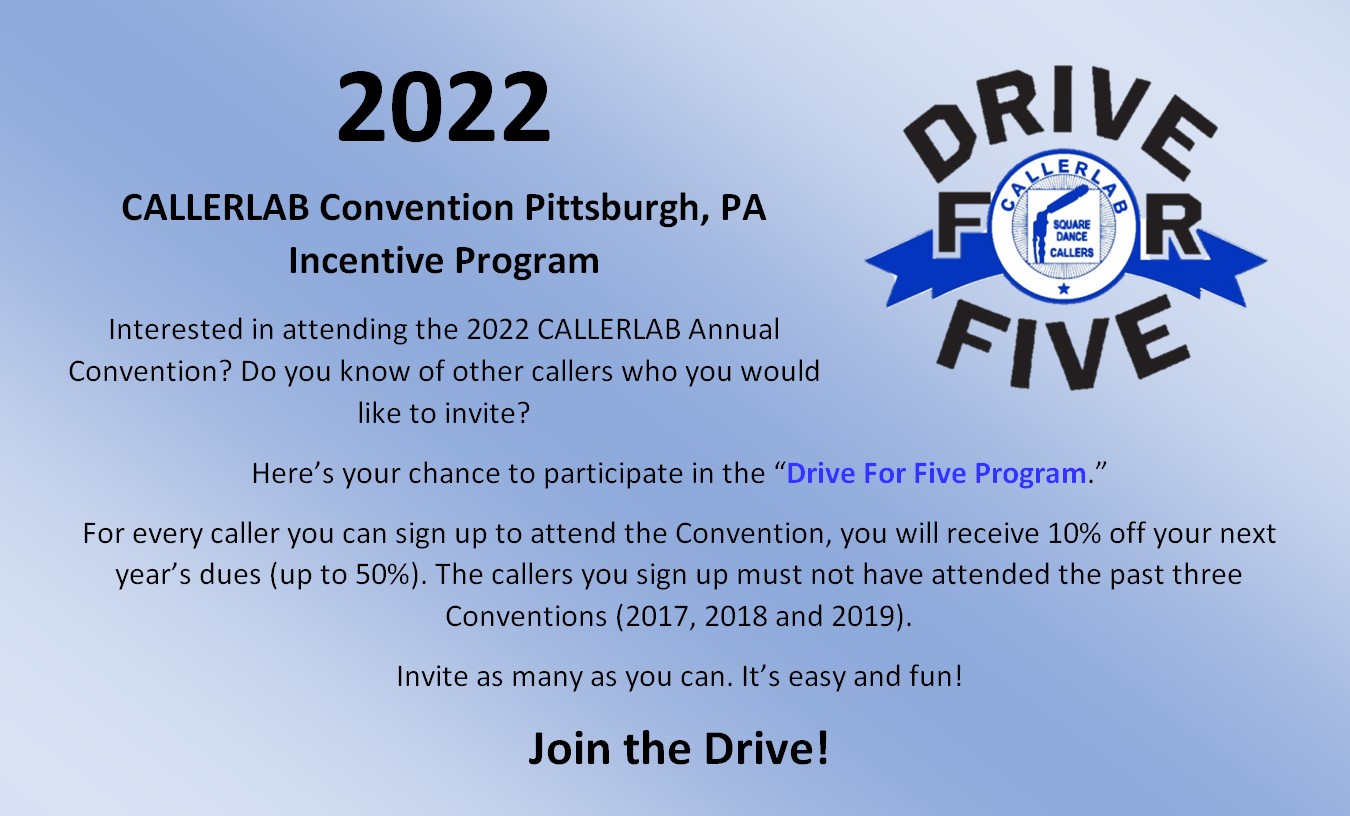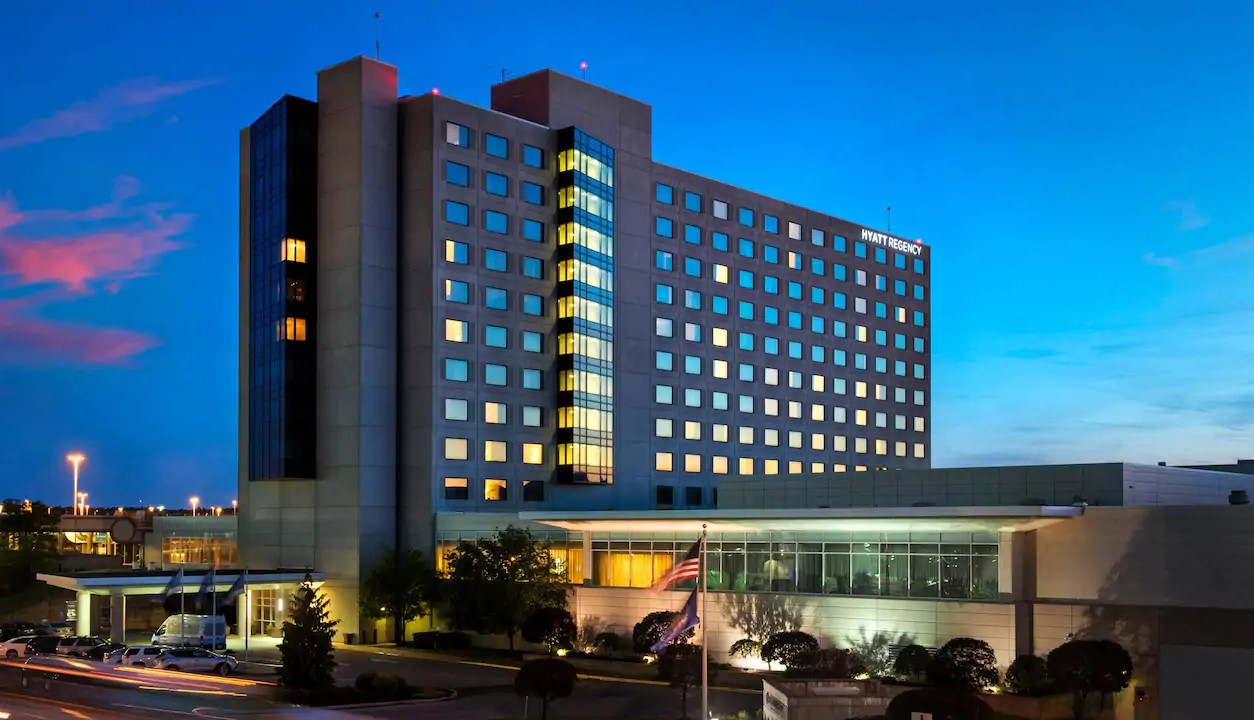 Hyatt Regency Pittsburgh International Airport
1111 Airport Blvd, Pittsburgh, PA
Hotel Reservations
The 47th CALLERLAB Convention will be held April 11 – 13, 2022 at the Hyatt Regency,  Pittsburgh International Airport
1111 Airport Blvd, Pittsburgh, PA.
Reservations can be made here: https://www.hyatt.com/en-US/group-booking/PITAP/G-MBR0
Please advise the Home Office if you have problems registering with the hotel.
Call the Home Office (800) 331-2577 if you have any questions
Make your room reservations early!
Upcoming Conventions
April 11-13, 2022  Pittsburgh, PA
April 24-26, 2023 Sparks (Reno), NV
March 25-27, 2024 Grapevine, TX
*Current Guidelines and Protocols for Pennsylvania, Allegheny County, & the Host Hotel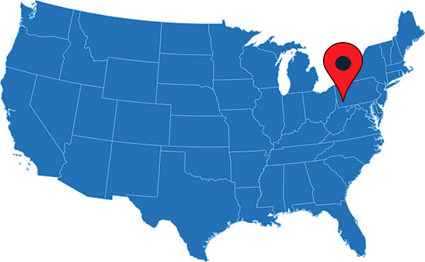 The CALLERLAB Convention is subject and bound to follow the COVID guidelines and protocols of the state of Pennsylvania, Allegheny County, and the host hotel.
The host hotel has the following protocols:
The Hyatt Regency requires a mask for unvaccinated guests, and masks are encouraged for all guests in public areas of the hotel.
The hotel does not ask for proof of vaccination, but does hope and expect that unvaccinated guests will wear masks in public areas to ensure the safety of themselves and other guests.
This is solely a good faith policy, as there is there is no practical way for the hotel to know the
vaccination status of all guests.
To further ensure the health and safety of attendees, the hotel provides for:
Contactless check-in available, along with Digital Key Entry using your mobile phone.
Seating in all public areas spaced to encourage safe social distancing.
Hand sanitizer stations installed throughout the hotel and at frequent "touch points".
Elevator signage is posted to limit capacity and to encourage socially distanced places to stand.
Electrostatic disinfectant spraying used in public space and meeting space.
Sneeze guards available for banquet buffets, or option for banquet server staff.
Below are guidelines that the Hyatt Regency staff currently follow in order to ensure the health and safety of guests:
The hotel staff are required to wear a mask at all times.
Daily temperature checks required for all employees upon entering the hotel.
Daily health assessment required for all employees prior to starting their shift.
Employees who feel sick are immediately sent home.
Proper hygiene and regular hand washing procedures for employees are enforced.
Hotel policy for people in meetings in conference rooms:
The hotel currently has no restrictions/capacity limits (other than usual max capacity amounts) in place when it comes to our events.
The hotel will work hard to put on a safe and successful event for the guests.
The hotel leaves it is up to the planners of the event to dictate what they feel comfortable with when it comes to how many people per table/room, buffet or plated, sanitization stations etc.
*These guidelines are current as of our knowledge. For the most up-to-date information from the county and state, visit www.alleghenycounty.us/healthdepartment or www.health.pa.gov/topics/disease/coronavirus/
Recommendation on vaccination from the Board of Governors:
The Board of Governors was asked to consider if there should be any guidelines regarding vaccination. They approached this challenging discussion in an incredibly professional manner, objectively discussed various points of view respectfully, then voted on what our
position should be in terms of attendees and vaccination. The Board of Governors voted to make the following recommendation to Convention attendees:
The Board of Governors recommends that all attendees be fully vaccinated prior to Convention.
The Board of Governors chose NOT to make this a mandate, but a recommendation to help ensure the health of all Members attending the Convention. Please consider this recommendation and make the decision that you feel is best for you.
In addition, the Home Office is looking into all practical measures to ensure a safe and healthy Convention. We have two major commitments:
To make this a great, successful, productive, and fun filled Convention
To ensure that the health, comfort, and safety of our attendees is a top priority.
With these protocols and guidelines in place, we look forward to seeing you are our Convention in Pittsburgh and focus on our theme of "Restart, Reconnect and Restore."
Thank you in advance for you consideration and respect for these protocols and guidelines.
Harlan Kerr, Chair, CALLERLAB